Loyal Leaf Cleaning LLC:
Your Number One Source for Janitorial Supplies and Services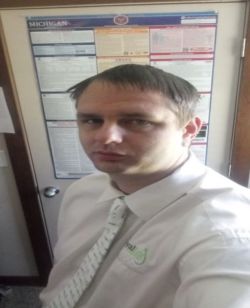 Director of Operations - Michael E. Crossman
Loyal Leaf Cleaning would be thrilled to help you in your current situation and we hope you enjoy our services as much as we enjoy offering them to you!
Founded in 2017, Loyal Leaf Cleaning LLC has come a long way from its beginnings. When Michael first started out, his passion for cleaning drove him to quit his day job and to do tons of research, so that Loyal Leaf Cleaning LLC can offer you a great service. Michael has certifications in Janitorial and Maid Service, Bloodborne Pathogens, Dental Safety, Covid-19, and more. Michael trains his employees in the following field Janitorial Cleaning, HIPPA, Bloodborne Pathogens, Safety in the workplace, Covid-19.
Michael and his Managers will inspect your building using APP base software to ensure that your building is getting cleaned to your standards. Building inspections are done on a regular basis and the cleaning technician who cares for your property will earn a bonus each time they receive a great score on the inspection every month. Our staff is our most precious resource and we believe that by offering them incentives, we get the best service – and so do you!
Loyal Leaf Cleaning LLC is a Certified, Insured, and Bonded cleaning company. We provide environmentally safe, pleasantly scented cleaning products, along with our own cleaning equipment. Call (517) 219-9661 to find out how easy it can be to have a cleaner and healthier Building. A cleaner building is a healthier building.
We offer flexible scheduling, designed to meet your cleaning needs all year long:
one time cleaning

weekly or bi-weekly cleaning

twice a month

monthly cleaning
We offer janitorial services for all types of facilities and would be happy to tailor a cleaning routine that suits your every need and your cleaning budget. Your cleaning dream team arrives on time, in uniform, to dust, clean, disinfect and vacuum. We are fully staffed with our own employees, not contracted employees, ready to provide expert cleaning services whenever your business needs them. Call (517) 219-9661 today for a free cleaning estimate for your business.
---
Call for a FREE Quote
---