Disinfection Services in Jasper, Michigan
Utilizing our Exclusive E-Mist System
Although most people infected with a virus will recover quickly and resume a healthy lifestyle, slowing the spread of the virus is helpful in any environment. Many customers are asking how to best minimize the spread of sickness in Jasper, Michigan workplaces and keep their employees and guests healthy. Loyal Leaf Cleaning LLC follows CDC guidelines for cleaning and disinfection of surfaces to kill viruses.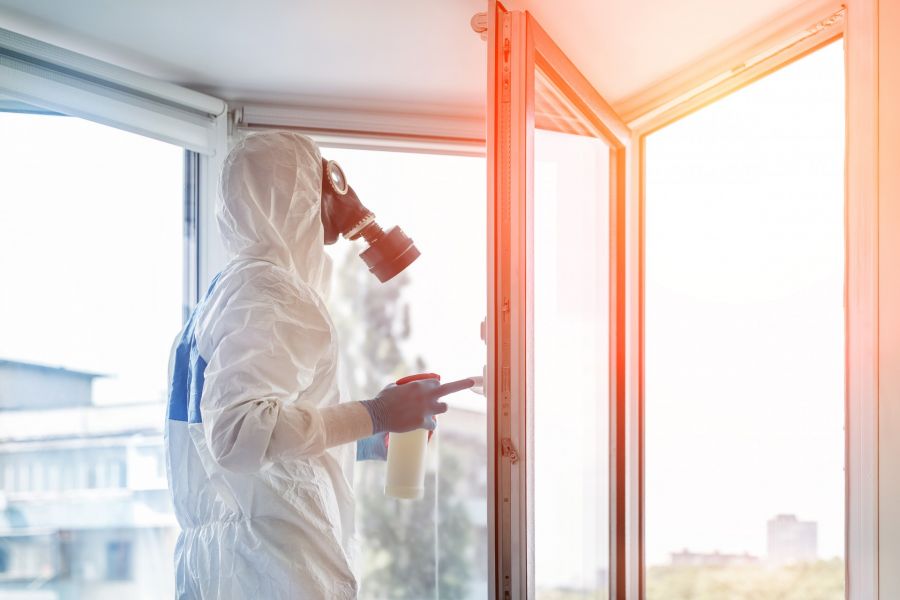 ---
Call for a FREE Quote
---
Winter Special
10% off disinfecting services for the remainder of winter 2021
expires 01/31/2021
How Does the E-Mist Electrostatic System Create Healthier Environments?

Most surface areas are neutral or negative. The patented E-Mist system places a powerfully positive charge on the chemical disinfectant as it leaves the spray nozzle creating greater adhesion and attraction (Electromagnetic Theory). The disinfectant is more targeted, provides more consistent coverage.
Electrostatic Disinfectant Treatment is applied using a state-of-the-art dispenser that sprays a negatively charged solution onto surfaces, ultimately covering the impossible corners, crevices, backsides, and other hard-to-reach places often missed during a general cleaning process. The treatment spreads a thin layer of solution, generating quick drying time yet maintaining a long-lasting disinfectant application. One electrostatic sprayer treatment can cover 10,000 square-feet per hour, eradicating germs, viruses, and bacteria – all while boosting prevention against mold and mildew.
How to Prevent Viral Spread in Jasper Buildings
The trusted procedures and products that prevent and reduce spread of other viruses can also apply to the new coronavirus as well as bacteria.
Below are the primary recommendations from the CDC (Center for Disease Control):
Require that employees exhibiting symptoms stay home.
Frequently clean (or call Loyal Leaf Cleaning LLC to clean) surfaces shared by multiple people, such as work stations, switches, doorknobs, and faucets.
Disinfect these surfaces frequently to kill germs. Use EPA-approved products that can kill viruses and bacteria or call Loyal Leaf Cleaning LLC for disinfection services at (517) 219-9661.
Keep common areas and restrooms stocked with disinfecting hand soap and/or alcohol-based hand sanitizer. Remind staff to frequently wash their hands by scrubbing with soap and water for a minimum of 20 seconds.
In addition, call (517) 219-9661 for a free on-site consultation by Loyal Leaf Cleaning LLC.
Why Call Loyal Leaf Cleaning LLC for Jasper Disinfection Services?
Every year, thousands of people miss work due to illnesses caused by viruses, such as various forms of the flu. For more than 4 years, Loyal Leaf Cleaning LLC has followed best practices put out by the Center for Disease Control to keep the spread of Jasper viral outbreaks to a minimum.
Loyal Leaf Cleaning LLC's staff are well trained and closely supervised to ensure that proper protocols are followed when cleaning and sanitizing Jasper buildings. We use a system of cleaning with microfiber cloths in order to stop cross contamination.
When an outbreak of a virus is suspected, the cleaning teams at Loyal Leaf Cleaning LLC follow a cleaning and disinfection procedure that is designed to remove germs from all surfaces, preventing viral spread.
Other options during an outbreak are to increase the frequency of cleaning services or call (517) 219-9661 for porter services to keep surfaces clean throughout your business hours.
When you call Loyal Leaf Cleaning LLC with concerns about reducing the spread of viruses, every faucet, light switch, doorknob, keyboard and more are cleaned and sanitized. Surface sanitization, combined with frequent hand washing, is the best-known measure to prevent the spread of viruses in the workplace.
For more information on preventing the spread of illnesses, visit the CDC website: https://www.cdc.gov/coronavirus/2019-ncov/index.html.
---
Call for FREE Disinfection Services Quote
Dial Area Code first please.
---